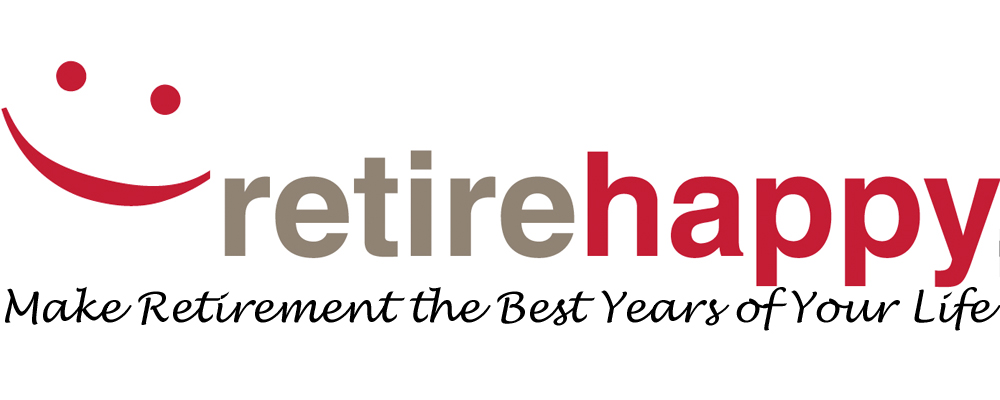 Jim's Retire Happy Workshop has been his most popular program for the past 20 years. He has a passion for helping people retire happy and making retirement the best years of your life.
About Retirement
Retirement is on the minds of many people and demographics suggest that the next 5 to 15 years will create one of the biggest surges of people entering into the retirement phase of life. For some, retirement will be the best years of their lives but unfortunately for others, it may not be that rosy.
Jim believes retirement can be anything you want it to be . . . you simply need to take some time to figure out what you want it to be. Retirement today is different than it once was. It is no longer about relaxing, sitting on the couch, watching TV and doing nothing. Retirement today is about being busy and active doing things that you love to do.
About the Retire Happy Program
In his Retire Happy Program, Jim teaches people how to make retirement the best years in life by simply planning for the future. It's not magically going to happen on it's own.
In his program, he teaches how to plan for retirement from beginning to end. Jim walks through his refreshing and innovative perspectives of developing a retirement plan. His program is special and unique which is why thousands of attendees rave about his teaching style and content. Jim's objective is that people walk away with a new and refreshing perspective on retirement planning and feel empowered to make improvements in life. In his program, Jim shares many insights including:
How retirement planning is personal. Retirement planning can be anything you want it to be. You just have to take some time to recognize what you want it to be.
Why you may not need millions and millions of dollars to retire happy and successfully.
How to design your lifestyle so you know how to spend your time as well as your money.
How planning your lifestyle is critical to the planning process
How to design a retirement income plan with a multiple paycheque system. You will learn where your income will come from and how to coordinate that income.
What are the key assumptions that go into a retirement plan and why the rules of thumbs you hear about may not be accurate.
How to maximize income by understanding the tax system and how your retirement income is taxed.
Learn the methodology of determining 'how much is enough'. How much money do you really need to save for retirement and where to put that savings.
Practical knowledge on the financial aspects and tools of retirement planning like RRSPs, investing and insurance.
And so much more . . .
Jim's program can be customized over 1 day to 3 days. Key hot topics can be used for 1 to 3 hour keynotes.
What organizers have said about our program
"What an amazing retirement seminar. Jim was superb! It's not often I get a day like the day after the workshop where everywhere I went in the plant, folks stopped me and said how it was the best thing the company has ever done and thanked us for it. Every response I got was overwhelmingly positive and even more surprising were the comments from those who seldom say much. Thanks again!"
– Lorne Kelndorfer, Station Manager, ATCO Power
The U of A Alumni office has worked with Jim for over five years and we have had nothing but positive response from our program attendees. Jim's communication is first class and the sprinkling of humor he includes adds greatly to the presentations. Jim is prompt, professional and candid. We look forward to using his services again. Thank you.
– by Angela Tom, University of Alberta Alumni Education
Grande Prairie Regional College has had Jim Yih provide financial and retirement planning workshops to employees at our different campuses. Our staff and faculty value the opportunity to learn from an independent advisor and Jim's depth of knowledge and logical approach ensures that his workshops are always well received. Jim provides real life scenarios that can assist everyone from individuals who are close to retirement and also those individuals just starting to think about planning for the future. Having the chance to learn from Jim is an opportunity your employees will always appreciate.
– Marina Chondros, HR & Professional Development Advisor, GPRC
Jim Yih is exactly what we had been looking for for several years – an independent, qualified financial advisor with gifted presentation skills offering a full-day seminar on retirement planning for our employees. The content is thought-provoking and relevant to a wide spectrum of people with different degrees of financial preparedness and understanding. There is no pushing of financial products and no pumping of financial ideology. Instead, Jim presents a down-to-earth, practical, honest framework for retirement planning which balances financial and lifestyle issues. The feedback from our employees was overwhelmingly positive from both blue and white collar, such that we have decided to roll out this program company-wide. Although initially some employees were hesitant to give up a full Saturday, every one of them was thrilled in the end that they attended. Not only does the seminar give people much-needed information, but it is also a great employee relations event.
– by Lori Klingbeil, Manager Pensions and Retirement Planning, Sherritt Intl Corporation
What audiences have said about this program
"I must admit, I was preparing for a big sales job, but what an awesome surprise! Your anecdotes about your own world were the day to day things we all face at sometime. Your information was crisp and blended well from topic to topic. Would highly recommend this course for anyone who needs the real scoop! Thanks again!
– Deb Armstrong, 2012
"Your seminar was very educational and entertaining. A whole day crammed with retirement and financial advice had the potential in my mind to be very boring and nap provoking, but you managed to keep us alert and involved with your humour driven presentation. Your "light-bulb" information moments were truly eye opening when it came to retirement planning. Your simple, but very clear charts and diagrams cleared up almost all our questions. Besides informing and entertaining us, you have brought us peace of mind concerning our retirement."
– Doug and Dorrie McLeod, 2012
I was really pleased with the "Retire Happy" workshop. I was somewhat apprehensive about attending a full day hearing about money and hearing about how much I did not have. However, much to my delight, the day was fun, VERY informative and I learned so much that I did not know. I came away from the day with some pointers on some things that I could still do while I continue to work. One of the best parts I learned was that Retirement is not all about money – that lifestyle plays into the whole thing every bit as much. It was very 'eye opening' to actually sit and try to determine exactly WHAT I am going to do with my time when I retire. I also appreciated some of the practical information that Jim uses to illustrate the differences between taking money at age different ages, about cashing in retirement dollars, etc. The entire day was one well spent and I would do it again. Thanks Jim!
– Kathy Lenihan, Executive Director, ABC Head Start (2011)
What I enjoyed about this workshop was the emphasis on lifestyle as well as the financial implications. I have been focusing on "do we have enough money to retire" (and yes, I found out we do!) and not enough on what is my retirement going to look like with respect to doing those things that are meaningful to me. I came away feeling confident that retirement will be a positive and exciting experience.
– Ann Babb, ABC Head Start (2011)
My husband and I attended Jim's retirement workshop and got so much out of it. The information received in the workshop was very informative and exactly what we needed to guide us in our plans for retirement. My husband has been using the tools provided at the workshop to work out numbers and give us an idea of how much longer we have to work. I would suggest that everyone attend one of these workshops. People should participate in these workshops 2 or 3 times during their working career, starting early to get going in the right direction for retirement.
– Caryl Sallows, Department of Business, Grande Prairie Regional College (2011)
I greatly enjoyed attending Jim's seminar on Retirement Planning. His workshop is not only informative but also very entertaining. I feel so much more confident after taking Jim's workshop so much so that I have already put some of what I learned into motion. I would highly recommend everyone take this seminar and have encouraged many of my co-workers to attend when a future opportunity presents itself.
– Mel Hocken, Retire Happy Workshop, November 2011
My husband and I weren't sure of what we would get out of Jim's Retirement Seminar. In the past whenever we discu ss e d retirement amongst ourselves or with other s i t was very daunting and we always ended up being more confused and upset. We were very surprised and happy with what was presented to us. Jim is excellent at explaining things that are normally complicated. He uses language and stories that the ordinary person can understand. We enjoyed every minute of the seminar and went home excited about our retirement. Jim's stories and humor really kept the presentation easy to understand and enjoyable. Now we have written up our "Bucket List", our "To Do List" and are ready to crunch some numbers!! So it looks like we won't get bored, get depressed, take little pills and die grumpy!! Thanks to Jim, we know that retirement isn't just about having a million dollars in the bank!!
– Brian & Nan Stenson, ATCO POWER
I would fully endorse attending one of his workshops whether it be for retirement or financial planning, you will be on the right road to your future success. I truly enjoyed Jim's retirement workshop. The information was extremely benificial for planning my retirement and answered the questions that I had always wondered about. My only regret is that I wish I had attended this session ten years ago. Jim's presentation was very easy to understand and entertaining to attend.
– Jake Knudslien, Government of Alberta
The Retirement Planning Workshop, hosted by U of A Alumni Affairs, provided a wealth of information about both "lifestyle" and "financial" aspects of retirement. Jim is a gifted speaker who was able to weave together a dizzying collection of facts, ideas, and principles into a comprehensive yet easily understood conceptual framework. Whereas one might leave an information-packed day feeling overwhelmed, inundated, even paralyzed – on the contrary, by the end of this workshop, I think we all felt informed and energized, that we had been provided with a sound model or "process" for thinking about our retirements, one that "made sense" and that we were likely to remember and actually put into practice! Jim combined his extensive knowledge, expertise, and experience with engaging stories, humour, and personal warmth to create a day that was engaging, informative and empowering. Thank you!
– Joy Eustace, U of A Alumni Workshop, November 2010
I have attended two of Jim's workshops. Both seminars were excellent with the second re-enforcing material from the 1st. The seminar was an excellent because the information was communicated in an easy to understand language and included a framework to manage/organize ones retirement ideas and financial needs. The presentation was well thought out with thought provoking ideas on retirement. I would recommend anyone close to retirement to attend the seminar presented by Jim Yih.
– Jim Smitten, Summer 2010
"I thought your recent Retire Happy Workshop was fantastic and very worthwhile! I found your whole approach very refreshing and encouraging. I appreciated your extensive knowledge, down to earth "you can do this" approach and most of all your energy and enthusiasm. Thanks again for a very informative day!"
– by Ellen Slaughter, Fall 2009
"Retirement planning has always been for me an anxious endeavor, with the underlying concern of "not having enough money", a message that is constantly reinforced by those individuals trying to sell me more RRSPs. Attending Jim's workshop was like lifting a weight off my shoulders because I learned that retirement planning should reflect what I want to do and how I want to do it, and that I will be able to afford the retirement I want. I won't be pressured by financial sales pitches any more."
– Teresa Halkow, Spring 2010
Thanks so much for presenting the recent Retirement Workshop. There was so much jammed into the day that my brain is still swimming. One of my "lightbulb moments" was learning that it's not all about the money. I am looking forward to using the tools provided to help make my retirement "the best ever".
– Barb Winter, Spring 2010
Click here to book the Retire Happy Workshop for your organization or event